Our Payment solution allows your hotel site to be redirected to a secure online payment page via HTTP FORM POST. Customers will enter their credit card details and finalise their payment before being returned to your website. Integrate your hotel website with the well-known secured online payment gateway and forgot your payment-related problems.
a brief overview of our
3-click

online payment system

At your hotel booking engine or a payment link created from our IBE backend that you send to customers
Redirect to a credit card form page supervised by your partnered bank or online payment gateway vendor.
Back to your Checkout page depending to payment transaction status. If completed, you receive booking and payment confirmation.
Key benefits and features include:
Flexibility

 by offering optional way of payment to customers who are not convenient to do money transfer like last minute booking, so you just your our IBE to create online payment link and send to customer who prefer to pay by credit card.

Trustworthy.

Built on a robust SSL technology, you and customers can feel confident about responsibility of your customers' credit card being hacked.

Easy integration.

 Our flexible application programming interface (API) and client software development kit (SDK) reduce development time.
Want to have one BUT

Was your online payment gateway registration rejected? Or have not applied it yet.
Learn more about other available payment options services for your hotel
Gateway Vendors in Thailand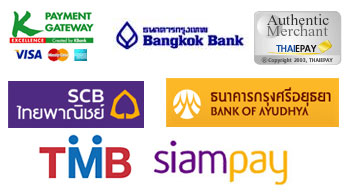 How an Online Payment System works
Our Online Payment System is created to help you get a professional website online quickly and easily. Sound good? There's no magic involved, but we do start with a simple formula to help make your website a success.

1. Vendor Recommendations
You will be given the facts of each system like pros & cons, fee, limitations and feedback from other hoteliers. 
2. Registration Assistance
We will help you thru the registration process which can speed up the process including the technical issues. However, getting approved or not is not rely to us.
3. Payment System Implementation
Once your registration is approved; the bank will send you a terminal code and merchant ID. Then we are ready to get the rest done.
4. Testing & Training
We will run a full test before activating it. In the meantime, the bank will provide you a training course to check and refund the transaction.
5. Activate System
After the online payment system is successfully integrated to your hotel's site, you are able to set a payment policy for each rate plan, promotion and packages. For instance, full advance payment or 1-night deposit or 50% credit card guarantee. Moreover, you are able to create an online payment link for customers who book via phone or email.